DSJ300 - L2 offshore oil drilling platform launching airbag to go well
---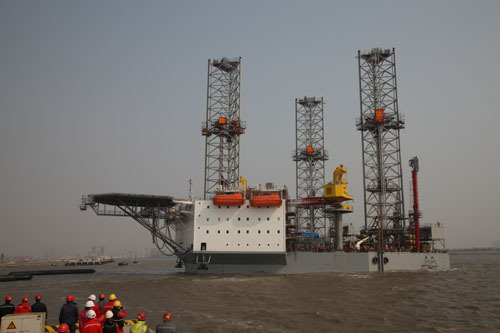 At 10:58 on October 15th,2014, DSJ300-l2 jack-up drilling rig owned byCHINA PETROLEUM LIAOHE ENQUIPMENT COMPANY was launched Successfully,which contracted by Shandong Changlin technical research center for Ship Airbags and fenders.
For the convenience of the main structure construction and a large number of equipment installation test, this 65m long, 60.2m beam,10800t DSJ300-12 was constructed at horizontal ground outside the top slipway. If like this, not only this rig needs to be moved 200m on land, but also the net width of slipway is 65.3m and each distance between broadside and side wall of slipway is not more than 1.6m.
However, by working out and strictly implementing a scientific and reasonable program to overcome difficulty of incorrect shifting controlling, CHANGLIN team always control the shifting deviation within 100mm and make sure the safety and success of this ship launching. Meantime, this success project also prove that CHANGLIN team have already master high shifting precision technology.