Air-bag ship launching record created by us
---
On Dec. 3, 2010, a 222m length, 70,000DWT ship 'New Dongguan 1' was slowly launched into water on the high bearing capacity air-bags produced by Jinan Changlin Air-bag Container Factory Co., Ltd. The process lasts for 2 minutes. The ship's dimensions: length 222m, molded depth 18m, designed draft 11.3m, launching weight 13000T. Before the ship launching, detailed launching plan was made by Jinan Changlin Air-bag Container Co., Ltd. The careful preparation is carried out on the hauling devices, strength analysis, site test by Zhejiang Zhenghe Shipbuilding Co., Ltd, Shanghai Merchant Ship Design & Research Institute and Zhijiang College of Zhejiang University of Technology. Through the coordination of the units, the 70,000DWT was successfully launched.
The launching of 70,000DWT Ship 'New Dongguan 1' using Changlin Air-bags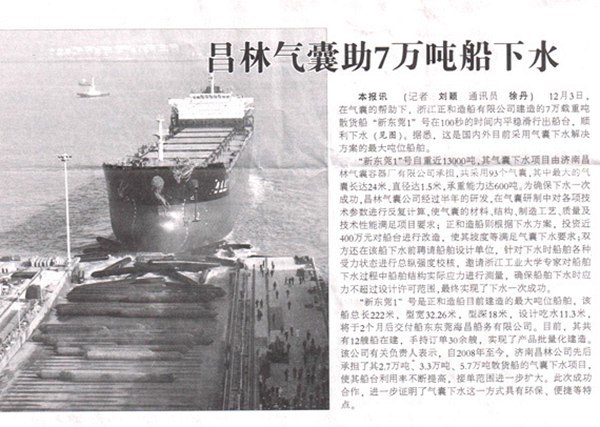 The report on the this event by China Ship News
Abstracts form China Ship News published on Dec.12, 2010.
"This is the largest dead weight tonnage ship launched by air-bags till now in the world. The 96 air-bags for the launching project were produced by Jinan Changlin Air-bag Container Factory Co., Ltd. The largest air-bag is 24m length, diameter 1.5m, bearing capacity 600T. "
"To ensure the success of the launching, Changlin air-bag company carefully calculated every parameter during the air-bag research and production in a half year, to get the air-bag's material, structure, producing technological process, quality and technical property meet the project's requirement."
"The principal of Zhenghe Shipbuilding Company said, from 2008, Jinan Changlin air-bag company has undertaken Zhenghe company's 27,000DWT, 33,000DWT and 57,000DWT launching by air-bag projects, and this has increased utilization of their ramp ways and enlarged their order scope. The successful cooperation improves the environmental production and convenient properties of the launching by air-bags again."